-how it works-
Register your school for a Mug Project

Children enjoy creating artwork

Parents fill out their order forms and pay the school

High quality mugs are produced and sent back to school

Children and Parents / Guardians receive their orders

School / PTA receives £1.00 per Mug ordered
The first thing you need to do if you wish to participate in a Mug Fundraiser is to register your school or group.
Once you register we will send you the pack which contains everything you need to get started.
the artwork pack contains the following >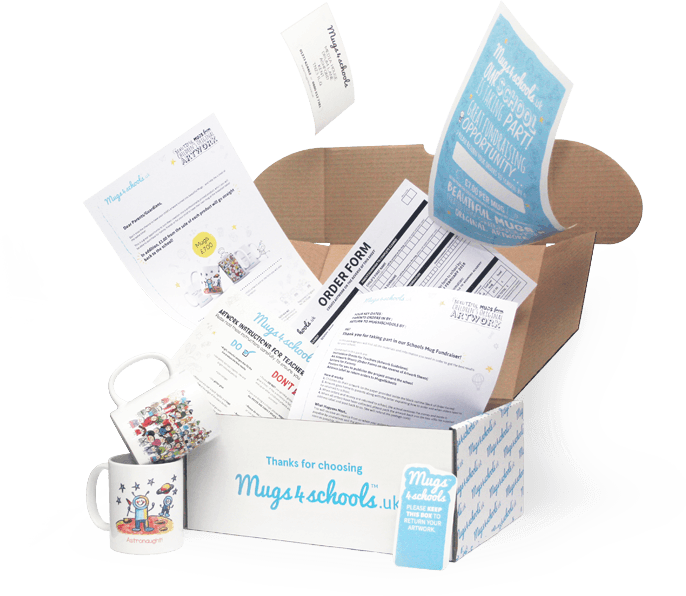 A4 paper for the children for their artwork
Artwork Guidelines
Order forms are printed on the reverse of the artwork
Letters for parents
Posters to display in school
A return label to send your artwork box back to us
- step by step guide to fundraising -
1Children complete their Mug fundraiser artwork on the A4 paper provided. In our experience this works best if it is done in class, however many schools do send this home as a weekend project.
2The teacher fills out the Child's name and class on the order form on the reverse of the artwork.
3Mug fundraiser artwork is then sent home to parents with a letter. The order forms are personalised to your school and will tell parents how to pay the school or PTA.
4When the Mug fundraiser orders come back to school, you remove the money and bank it.
5Pack the Mug artwork / order forms back into the box we sent you.
6When all Mug fundraiser orders have been collected, seal your box and affix the return label. Please post your orders back to us and we will refund the postage cost on your final invoice.
7When we receive your Mug fundraiser artwork and all orders have been logged on our system, we will send you an invoice to cover the production costs of your Mugs. This will leave you with £1.00 for every Mug that has been ordered.
8Mugs are delivered back to you on the agreed date and packed by class for easy distribution.
register today
and get fundraising!
Register Now
You can do this by either registering online or calling us on: